Budweiser FA premier league Pint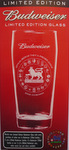 The official Budweiser limited edition FA Premier League pint glass!
A fine official standard UK Pint glass, with the FA's Premier League stamp embossed on every glass.
Promotion Limitation
This is a limited offer and is valid only until stocks last!
Claim this reward
Sorry - you must login to see your points and claim rewards. Use your ClubCard number and password in the form at the top of this page to connect.