10€ free credit for your mobile phone!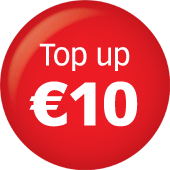 Got a pay-as-you-go Spanish mobile phone? Well, now you can get 10€ free credit on it, courtesy of us!
Just reclaim this prize and visit the shop with your mobile phone number. We'll credit you 10€ then and there. So easy!
Offer only valid for mobile phones on prepaid credit plans which can be recharged in the shop.
Claim this reward
Sorry - you must login to see your points and claim rewards. Use your ClubCard number and password in the form at the top of this page to connect.